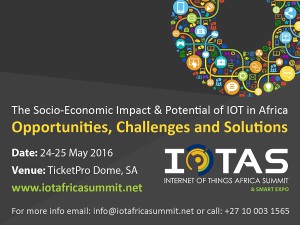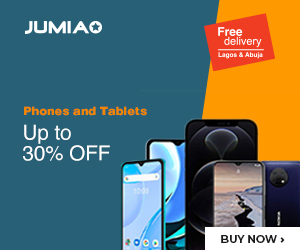 Just as Internet of Things devices are gaining more attention in Europe and America and other continents, Smart Events Group has organized a summit for in Africa for discussions about the innovation.
The group brings to the African ICT industry the Internet of Things Africa Summit (IoTAS 2016 & SMART Expo), scheduled for 24 – 25 May 2016 at the TicketPro Dome, Johannesburg in South Africa.
"IoTAS 2016 & SMART Expo is a 2 day professional summit focused on helping African ecosystem players to harness the IoT opportunities, address existing concerns and to shape their strategies. IoTAS 2016 will discuss local, regional and global state of IoT with its progress, challenges and outlook,"
the group said in a press release.
IoTAS & SMART Expo 2016 is anticipated be the largest gathering of CIOs, CTOs, IT Strategists, Privacy Officers, Network Security Managers, Server Application Managers, Heads of Digital Strategy, IT Managers, Heads of Departments – Purchase Managers, IT Specialists, Application Developers, related Government Heads, Financial Institutions and Law Firms representatives in the continent.
IoTAS 2016 & SMART Expo is planned to run under the main theme: The Socio-Economic Impact & Potential of IoT in Africa – Opportunities, Challenges & Solutions plus other strategic sub-themes.
20 executive speakers have been confirmed to attend the annual IoTAS 2016 & SMART Expo. Companies represented include  Department of Science & Technology (SA), Libelium (Spain), Microsoft Uk, Samsung, Telkom SA, Eskom, Veeam Software, Business Connexion, IBM, GSMA, GD Telecoms, Century Data Integrated Services Ltd (A Century Group Company – Nigeria) just to mention a few. The summit will have 60+ speakers, including panellists and SMART Track speakers.
A SMART Golf Tournament  is also scheduled for the 23rd of May 2016 to promote networking among IT Execs from across the continent.
At Keynote Panel Sessions during the summit,  IT Executives from around the world will share their expertise and insights on IoT opportunities & concerns.
Also, top industry leaders will present keynote presentations which is expected to provide critical insights and expertise to partakers of the summit.
There'll be a debate session where Experts, Analysts, Government leaders will speak on the state of IoT in Africa. The event will be crowned with a Contest and Awards Dinner on the 25th of May 2016.
Interested companies can register for the summit as delegates, exhibitors in one of Smart Event's Expo Zone or simply Invest in Sponsorship in one or all of the Summit segments.