Apple inc. finally launched the Apple Watch in India. The Smartwatch was launched in three variants – Apple Watch Sport, Apple Watch and Apple Watch Edition; it also comes in two sizes—38mm and 42mm.
The device will be available in these colours: yellow gold, rose gold, space black stainless steel, space gray, gold, silver anodized aluminum and polished silver.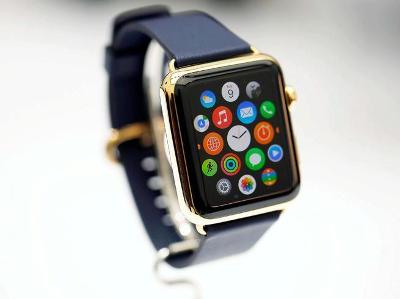 The Apple Watch which is 38mm long is sold for Rs 30,900 (approximately US$468, NGN 91,730) and the one which is 42mm long is sold for Rs 34,900 each.
If the device adopts the 38mm and 42mm stainless steel case combined with the white sport band, it will be sold at Rs 48,900.
The Apple Watch was introduced around six months back, and it has become the first new product category to be launched ever since Tim Cook took over the reins of the company after Steve Jobs stepped down.
The Apple Watch is also the first new device category that Apple released after they entered the tablet market with the Apple iPad in 2010.
The Apple Watch can be personalized with watch faces gotten from the traditional analog; these are the modular face, chronograph face, jellyfish on the motion face and the animated butterflies face.
The Apple Watch which serves as a timepiece, goes beyond telling time, it also has some specialized functions like the sunrise/sunset, daily activity level and even upcoming calendar events.
Users of the Apple Watch can also swipe up from the Watch face for 'Glances' that will quickly show any important information like weather forecast, current location and even the current music.
Health and fitness enthusiasts can also enjoy using the Apple Watch, as the watch comes with an Activity app that gives visual snapshots of daily activities, and with three rings that measure active calories burned and how often you stand or take a break from your workout.
The Workout app also gives detailed metrics required during workout sessions for activities like walking, cycling and running.
The Apple Watch works with all ranges of the iPhone from the iPhone 5 to the latest iPhone 6s. While India has finally gotten the Apple Watch, reports are going round that its successor will be coming around mid-2016.