The leading e-commerce and digital payments provider in Africa has announced the integration of its Quickteller services with the Blackberry Messenger (BBM).



This new service will be used on a new app called "Quickteller Mini", and it can be used by all devices with the Blackberry OS, Android and iOS operating systems. It is an expansion of BBM Money.
This new service will make it possible for BBM users who have an account in one of the Nigerian banks to request for funds and credits from a BBM contact who also has a bank account in Nigeria.
As easy as sharing a photo or file, this service doesn't demand lots of tech skills. All a user does is to click on the attachment option on BBM, choose Quickteller, then enter the amount and make a request.
The recipient just have to tap the message and enter their account details, and instantly the money will be credited to the receiver's account.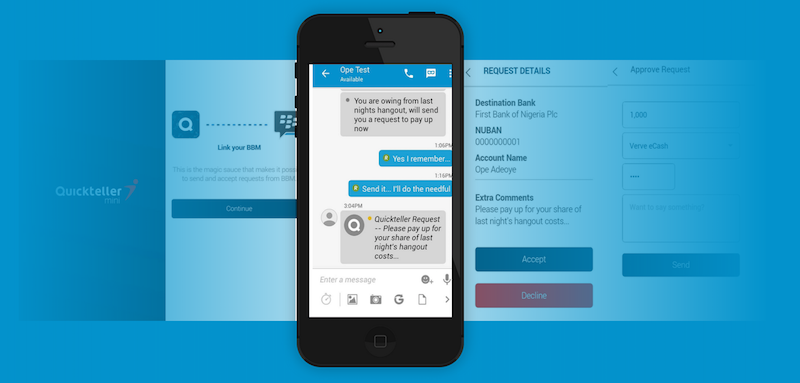 The Group Managing Director of Interswitch Mitchell Elegbe has this to say concerning the new service,
"person-to-person transfers and electronic airtime recharges present a growing market opportunity in Nigeria. We are very happy to bring this secure payment service to BBM users in Nigeria. This partnership shows how Interswitch continues to innovate and push the boundaries in African payments and enhance customer experiences at the same time."
Mr. Talbot Matthew, SVP emerging solutions at Blackberry said,
"This new mobile payment service simply demonstrates how we have effectively evolved BBM from the best real-time chat experience to a true social engagement and e-commerce platform."
Quickteller has over 3 million subscribers; it offers airtime recharge, bill payments and funds transfer, thus making itself the leading multi-channel payments platform in Nigeria.
In August, BlackBerry partnered with PayPal to enable money transfer on BBM via PayPal. This partnership with QuickTeller, a dominant payment solution in Nigeria will be key for the expansion of BBM Money in the country.
The Quickteller Mini app is now available on Blackberry World, Google's Play Store and Apple's App Store.