The Honor sub-brand of Huawei confirmed to us yesterday that they are launching their Honor 10 on the 19th of April and teased one of its colours, but that was just about it. Today, a new leak on Weibo shows what the back of the smartphone will look like. If this leak holds any water, it means that Huawei's Honor 10 will be the first from Honor to feature a dual camera setup branded by Leica.
In the leak too, we found out that this smartphone might even have a better colour than the Twilight Blue we saw on its official press invite yesterday. What we have today is more of a perfect blend between the blue and purple colour, finished off with gloss for added effects.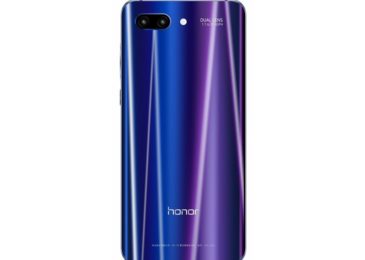 This back could easily be a metallic frame but we would not doubt it if we were told it was 3D glass. Looking at the left edge, you can find the volume rocker keys and the power button. One thing that was missing from the back is a fingerprint scanner so we are left to assume that will be mounted somewhere in the front instead.
Towards the base of the smartphone can be found the unmistakable Honor branding logo, sitting perfectly in place.
By the 19th of this month, we won't be grasping at straws anymore.