Huawei is holding an event for its sub-brand – Honor – on the 16th of April and by all indications, we will be getting the Honor 10 on this day. The promo image that comes with the invite also reveals some of the key specs that will ship with each unit, going on to add to the stockpile of leaks that have made the rounds about this smartphone in the past.
To be expected in less than 10 days from now, we are sure that the Honor 10 will have dual camera units on the back and a suitable AI to implement that. We are seeing the same Twilight colour that was on the Huawei P20 here so this new unit might be launching in al of the colour options that the said smartphone also comes in.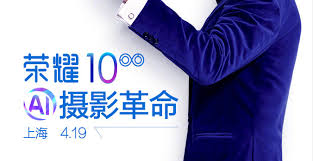 Going back the rumour mill, we have herd that there will be a 5.8-inch screen on this smartphone with its top notch in place. Under the hood will be inhouse Kirin 970 chipset and on the back would be a 12MP + 20MP camera setup.
Of course, with this new development, we wait to see what Honor wants to unveil during their May event in London. Perhaps the Pro version of this Honor 10 and the top-line variant of the P20?