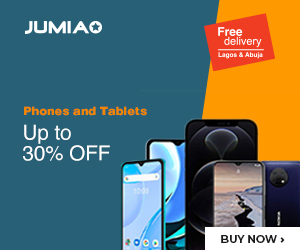 AliExpress 828 Mega Brands Sale of the year is now live. From August 21 to August 27, mobile brand UMIDIGI will be offering amazing deals (up to 52% off) on its smartphones on AliExpress 828 Mega Brands Sale 2023. These offers are available on both their premium and entry-level phones. Here are some of the best AliExpress 828 Mega Brands Sale 2023 deals from Umidigi that you don't want to miss.
The New UMIDIGI A15 / A15C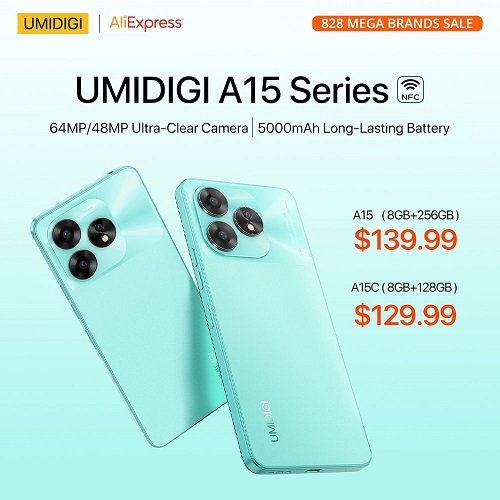 The UMIDIGI A15 stands out as a photography-oriented smartphone with a smooth, glossy design. The device is equipped with an elaborate triple camera setup – featuring a 64MP primary lens, complemented by an 8MP ultra-wide angle shooter and a 5MP macro sensor. Accompanying this is a 16MP selfie camera.
With its large 6.7-inch HD+ screen, the UMIDIGI A15 provides high-quality visuals backed by the robust T616 octa-core chipset. The phone's stamina comes from its 5000 mAh battery capacity that also supports 20W fast charging. The Umidigi A15C features a T606 octa-core processor instead.
Complementing these features are the 8GB RAM and 8GB virtual RAM and sizable inbuilt storage of up to 256GB for all your multimedia needs. Notable extras include NFC functionality, provision for type-C to type-C USB connectivity, handy hotkey for quick access functions and even an FM radio feature which doesn't require headphones to be used.
Buy UMIDIGI A15 at $139.99 | Buy UMIDIGI A15C at $129.99
UMIDIGI G2 Tab Kids / G1 Tab – Budget Gift for You and Your Kids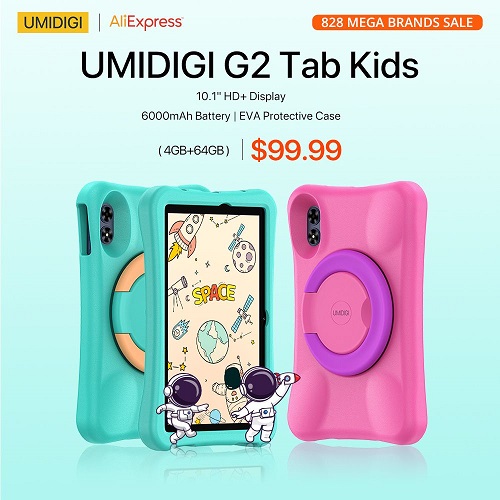 The Umidigi G2 Tab Kids is specifically crafted as a tablet for children. Both the G1 Tab and G2 Tab Kids models are equipped with 8MP back and front cameras, dual stereo speakers, along with a durable battery of 6000mAh, extended RAM of 4+4GB and an internal memory of 64GB.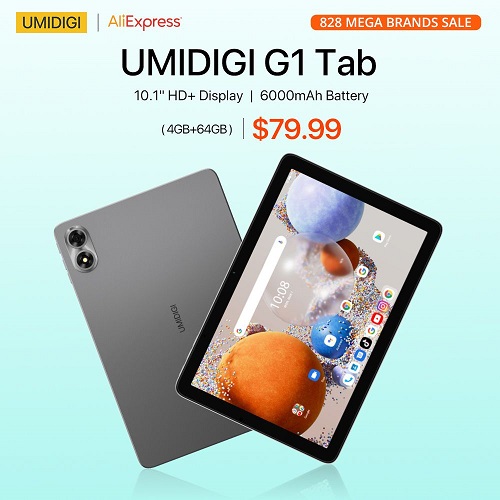 What sets the G2 Tab Kids apart is its robust EVA protection case and specially designed apps for kids which guarantees both safety and interactive engagement for youthful users.
Buy UMIDIGI G2 Tab Kids at US $99.99 | Buy UMIDIGI G1 Tab at US $79.99
The New UMIDIGI G5 Mecha Rugged Phone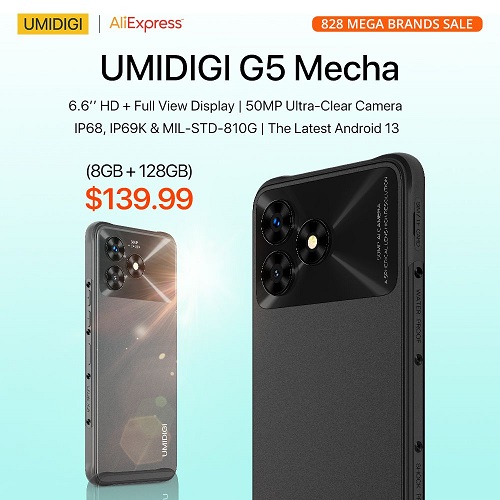 The Umidigi G5 Mecha exemplifies toughness in a sleek, ultra-thin design. It boasts a decent 6.6-inch HD+ display, enhanced by an impressive refresh rate of 90Hz. Powered by the T606 octa-core processor, it provides impressive capabilities with its 8+8GB extended RAM and sizable 128GB ROM.
Thanks to its IP68, IP69K and MIL-STD-810G certifications, the G5 Mecha stands as a trustworthy option for outdoor activities – it's designed to withstand even the most severe conditions without faltering.
Buy UMIDIGI G5 Mecha at US $139.99
UMIDIGI G3 Max / G3 – Stylish Phone with Favorable Price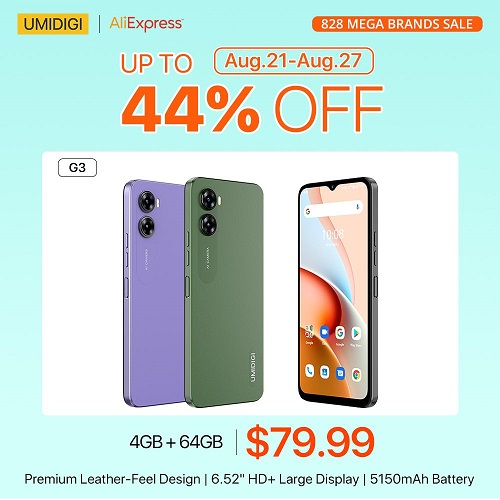 The Umidigi G3 Max and its counterpart, the Umidigi G3, both incorporate a premium leather-like design which enhances handling grip. A powerful 5150 mAh battery powers each device for a good battery life.
Sporting a larger 6.6-inch FHD+ screen, the G3 Max also boasts an ultra-clear 50MP camera, is driven by an Unisoc T606 octa-core processor and has expanded memory of 8+8GB RAM as well as large storage capacity with a 128GB ROM.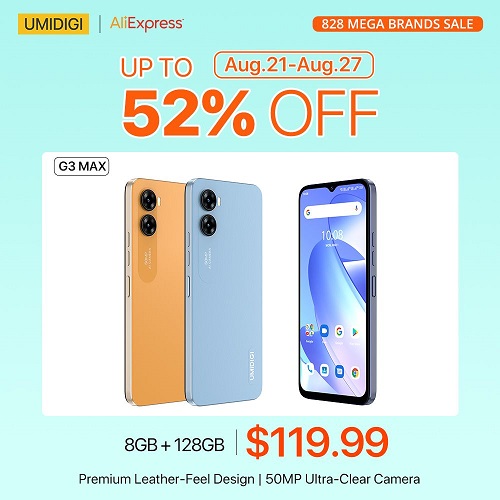 On the other hand, the G3 features a slightly smaller yet vibrant 6.52-inch HD+ display along with a solid primary camera of 13MP and comes equipped with extended memory options offering 4+4GB RAM in addition to ample storage space featuring a sizable ROM of 64GB.
Buy UMIDIGI G3 Max at US $119.99 | Buy UMIDIGI G3 at US $79.99
UMIDIGI A13 Pro Max 5G – the 2022 Flagship Phone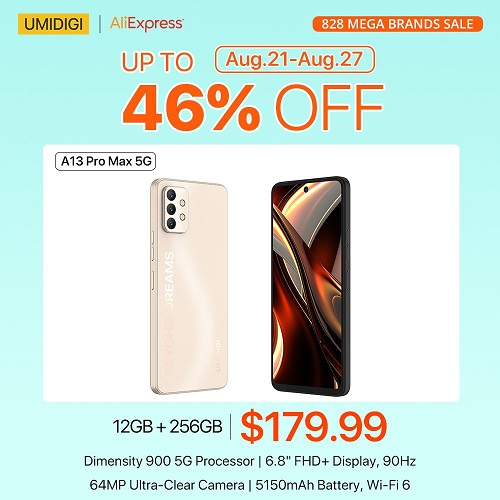 Launched last year, UMIDIGI's flagship A13 Pro Max 5G smartphone is equipped with the latest 5G technology and delivers superior performance in every aspect. It comes powered by a robust Dimensity 900 octa-core processor that operates at a speed of up to 2.4GHz, coupled with an expanded memory of 12+12GB RAM and a spacious storage capacity of 256GB.
Furthermore, the smartphone offers a large screen display measuring 6.8-inch FHD+, complimented by an ultra-fluid refresh rate of up to 90Hz for a seamless viewing experiences. The device also takes photography to new heights thanks to Sony's cutting-edge AI triple camera setup featuring a high-resolution sensor of up-to-64 megapixels for capturing impressive images.
The massive 5150mAh battery and 18W fast charging eliminate battery anxiety. The device also supports dual 5G SIM and Wi-Fi 6 and boots the Android 12 system to enjoy excellent 5G performance.
Buy UMIDIGI A13 Pro Max 5G at US $179.99
UMIDIGI G1 Max and C1 Max Entry-Level Phones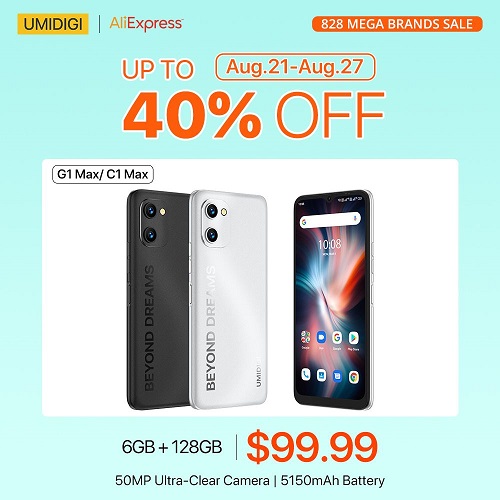 The UMIDIGI G1 Max and the Umidigi C1 Max are entry-level models that perfectly blend style with power. Powered by an eight-core Unisoc T610 processor and complimented with a potent combination of up to 6+6GB expandable RAM and 128GB ROM storage, they guarantee excellent stability in performance. This ensures ample space for your preferred apps without any delay in response time.
The camera configuration includes a premium quality 50MP primary lens on the back with an additional 2MP depth sensor offering high resolution imagery. Both devices are outfitted with a generous battery capacity of 5150 mAh, effectively eliminating worries about frequent charging.
They also come equipped with a large 6.52-inch display, which provides an immersive viewing experience like no other. For added security features, these gadgets incorporate side-mounted fingerprint recognition technology along with facial recognition unlocking capabilities and they run on Android 12 for swift yet secure handling.
Buy UMIDIGI G1 Max and C1 Max at US $99.99
UMIDIGI BISON 2 and BISON 2 Pro – Super Species of the BISON Series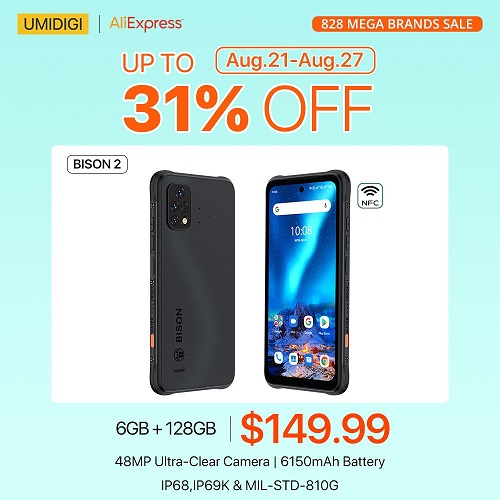 The UMIDIGI BISON 2 and the UMIDIGI BISON 2 Pro are the highlights of the show and one of the bestsellers. These devices are equipped with a Helio P90 chipset, along with a 6.5-inch FHD+ FullView screen, offering an extraordinary digital user experience like never before.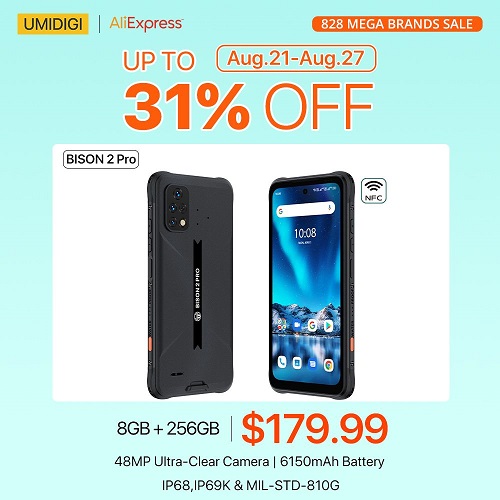 They also incorporate an ultra-fast 18W charging system and boast of a robust battery capacity of 6150 mAh, effectively eliminating any worries about battery life. Being designed as durable smartphones, the UMIDIGI BISON series demonstrates resilience through its rugged yet stylish design coupled with IP68 & IP69K rating that ensures that you can use it even in harsh environments.
On the camera front, they sport a triple rear AI camera setup featuring an impressive resolution of 48MP. Moreover, they support NFC technology facilitating hassle-free cashless payments. The minor distinction between these two models lies in their memory configurations: BISON 2 has 6+6GB extended RAM and 128GB ROM, while the BISON 2 PRO comes with 8+8GB extended RAM and 256GB ROM.
Buy BISON 2 at US $149.99 | Buy BISON 2 Pro at US $179.99
UMIDIGI BISON X10 – The Most Valuable Rugged Phone of the BISON Series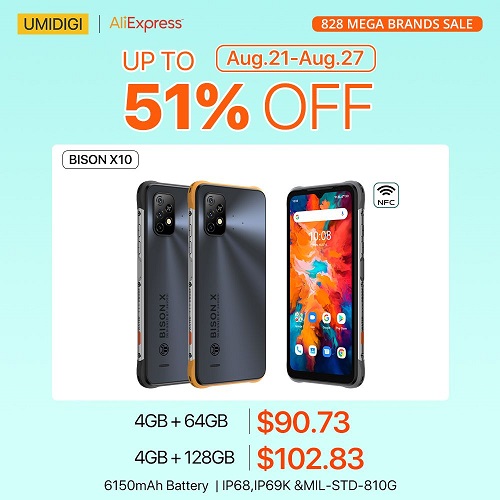 The UMIDIGI BISON X10 has two variants: 4+4GB extended RAM, 128GB ROM and 4+4GB extended RAM, 64GB ROM. Adopting a 6150 mAh large battery, BISON X10 can ensure you a super long entertainment time, bringing you endless joy in your life.
Featuring a 6.53-inch large full screen with a 20:9 aspect ratio, BISON X10 allows you to immerse yourself into whatever you're doing. Powered by a MediaTek Helio P60 Octa-Core processor, BISON X10 highly fulfills your daily needs from multitasking to heavy gaming.
With IP68 , IP69K, and MIL-STD-810G rating resistance, BISON X10 is durable enough to withstand various harsh environments. Combined AG matte glass and rubber cushion, BISON X10 delivers a stylish look and comfortable hand feeling, while the rubber cushion protects your phone from most accidental drops.
In addition, BISON X10 sports many essential sensors including the barometer. Via a variety of outdoor toolkit apps, you can check various real-time information for adventures such as elevation, pressure, direction, position, and more.
Buy BISON X10(4GB+128GB) at US $102.83 | Buy BISON X10(4GB+64GB) at US $ 90.73