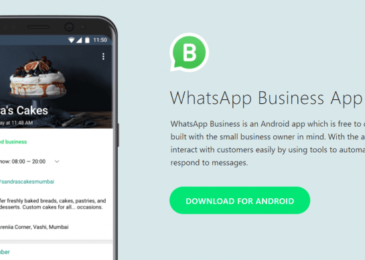 WhatsApp is really changing the way we look at social media messaging. After introducing more than a couple of amazing changes to the instant messaging platform last year, they have started this year with another diversification in their portfolio. In short, they have now started catering to business owners with the new WhatsApp for business.
Yes, you heard that right.
It means that businesses can now take their interactions with customers off the general WhatsApp and have one dedicated to them and their goals. That makes it easier for entrepreneurs to organise their private and business contact details into different accounts. From the post that emanated from the official WhatsApp blog, here are the features to expect on the new WhatsApp for business.
1 Business Profiles
The accounts on WhatsApp for Business will have the option of providing the customers with a business profile that would be like a mini website landing page, all from the comfort of an instant messaging app. The business profile can contain details such as the official email address, name and website of the business
2 Messaging for Business
It is no secret that customers would love speedy replies to inquiries, more than the 'wait for 12 – 24 hours' that we have now come to be used to. With quick messaging tools to reply customers inquiries and complaints in real time, your business just got a facelift
3 Messaging Statistics
This will behave like analytics for blog posts on websites. Simply, it helps you analyse which messages get read over others, instructing you on how to structure future content.
4 WhatsApp Web
This has been around for a while even on the general WhatsApp, and it has made its way onto the Business version too. It is more professional to handle business dealings on a desktop more than on a mobile, and Facebook (owners of the WhatsApp platform) think so too.
5 Account Type
Customers will be able to differentiate between normal accounts and business account when chatting with them. As time goes on, the WhatsApp for Business will introduce a feature where businesses can get verified, cutting down the excesses of scammers who might want to use the feature negatively.
While there is a lot of excitement about the new app already, it is only available for download on Google Play in Indonesia, Mexico, Italy, the UK and US. It is expected to hit the rest of the world in the coming days.