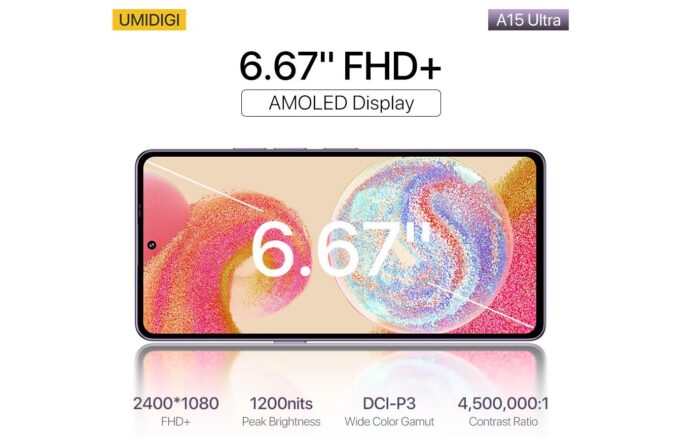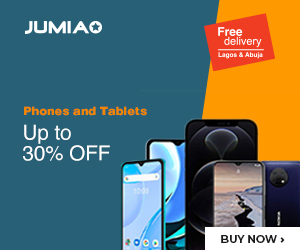 UMIDIGI will be releasing a high performance A15 Ultra very soon. UMIDIGI A15 Ultra will come in five different colors: Space Black, Matte Black, Dark Purple, Celadon Green, and Silver White. It features a matte glass back cover for a great look and feel.
Powered by the MediaTek Dimensity 9000+ 5G flagship, the smartphone offers a flagship experience with exceptional performance. It is equipped with an impressive 16GB+16GB RAM and a 1TB ROM, with LPDDR5X memory, allowing for a 7500 Mbps transmission rate. The 5G Dual SIM and Dual Pass function provide an outstanding network connection for both gaming and communication.
You may also be interested in Umidigi Deals on AliExpress 828 Mega Brands Sale.
Additionally, the 6.67-inch' FHD+ AMOLED highly sensitive touch screen and 200 million ultra-clear triple-camera lenses with the MediaTek Dimensity 9000+ 18-bit HDR-ISP image signal processor Imagiq 7.0, guarantee an ultra-clear visual and a flagship touch experience. The UMIDIGI A15 Ultra, the winner of performance, brings you the flagship experience!
The importance of maintaining the originality of one's work cannot be overstated. It is essential to ensure that the ideas and expressions of a piece of writing are entirely the writer's own and not taken from another source. It is vital to avoid plagiarism in order to uphold academic integrity.
Sophisticated Design, A Style Icon
The UMIDIGI A15 Ultra comes in five different colors: Space Black, Matte Black, Dark Purple, Celadon Green, and Silver White. The Space Black, Matte Black, Dark Purple, and Silver White models have a matte glass technology that gives a delicate matte texture and a calm and composed vibe amidst understated elegance.
On the other hand, Celadon Green model uses the Celadon Green glass technology that has a glossy ceramic-like color, texture, and aesthetics at the same time. It's worth noting that the UMIDIGI A15 Ultra, which will soon be released, is as narrow as 7.9 mm and has an ultra-high-quality matte glass back cover that looks sharp and shiny. It also feels warm and comfortable in the hand, providing a double enjoyment of vision and the sense of touch.
Flagship Powerhouse, Performance Winner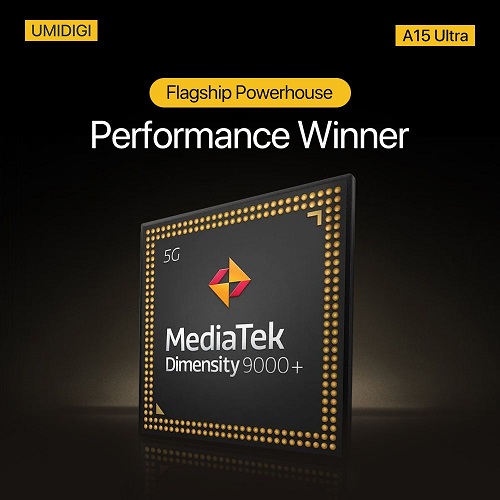 The UMIDIGI A15 Ultra is powered by MediaTek's cutting-edge Dimensity 9000+ flagship 5G chipset. It boasts an octa-core CPU with an Armv9 architecture and the Arm Mali-G710 flagship deca-core GPU. The chipset is the first to support LPDDR5X RAM with a transfer rate of up to 7,500 Mbps, providing powerful compute performance and energy efficiency.
The gaming experience is further enhanced by MediaTek HyperEngine 5.0 gaming engine, which supports AI-VRS Variable Rendering Technology and Intelligent Dynamic Frame Stabilizing Technology. For imaging, the MediaTek Dimensity 9000+ features the flagship 18-bit HDR-ISP image signal processor Imagiq 790, which supports a 200-megapixel camera and 18-bit HDR videos.
The chipset also integrates a 3GPP Release-16 standard 5G modem and supports MediaTek 5G Ultra Save 2.0 power-saving technology and multi-standard Dual SIM technology, ensuring high-speed networks are always available. All these power gives this device the potential of being one of the best gaming phones for budget shoppers.
Ultra-large Memory, Smooth Experience
The UMIDIGI A15 Ultra provides a smooth experience to its users by utilizing a flagship-level memory setup of 16GB + 16GB. This means it comes with 16GB RAM with support for up to 16GB virtual RAM. This memory is equipped with LPDDR5X specification, which enables faster read and write speeds, resulting in smoother operations.
With its impressive 16GB of memory and memory recombination technology, the UMIDIGI A15 Ultra can handle up to 44 background apps with ease, providing an exceptional level of smoothness that surpasses expectations.
You may also be interested in the Umidigi G3, the Umidigi G3 Plus, and the Umidigi G3 Max.
Smooth Gaming with Full Power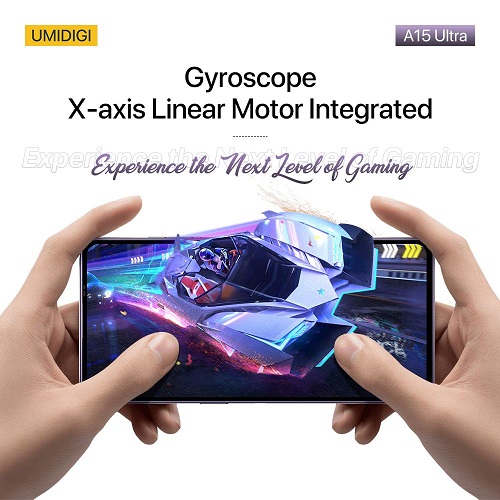 Are you tired of experiencing lag and delay while gaming? Put your worries to rest as the UMIDIGI A15 Ultra is here to provide you with an unmatched gaming experience. This device is equipped with advanced gyroscope technology and an X-axis linear motor, which work together seamlessly to deliver precise and responsive in-game movements.
Moreover, the X-axis linear motor provides vibration feedback, allowing you to feel the in-game action like never before. With the UMIDIGI A15 Ultra, you can say goodbye to lag and enjoy smooth and mesmerizing gameplay.
6.67-inch FHD+ AMOLED Display
The UMIDIGI A15 Ultra is equipped with a 6.67-inch FHD+ AMOLED display that supports a 2400*1080 resolution, 1200 nits peak brightness, DCI-P3 wide color gamut, and a 4,500,000:1 contrast ratio.
This allows you to enjoy an ultra-clear visual experience that showcases even the smallest details. Additionally, you can now indulge in a seamlessly smooth experience with a maximum of 120Hz high refresh rate, regardless of whether you're engrossed in a gaming session or browsing social media.
Ultra-Clear Triple Camera Captures the Beauty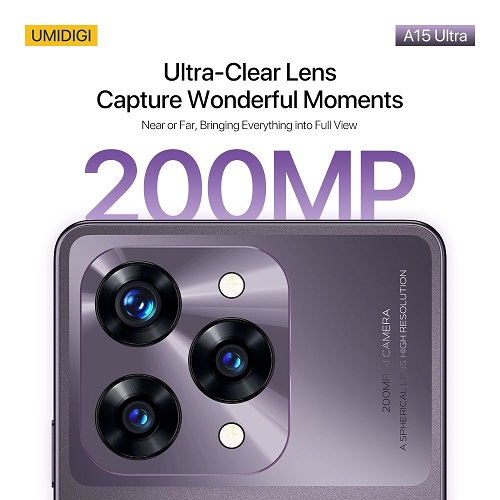 The UMIDIGI A15 Ultra smartphone boasts an impressive triple camera setup with a massive 200-megapixel lens. Its advanced technology captures colors and details accurately, allowing you to relive the moment precisely as you saw it.
Additionally, the phone's built-in AI enhancement and AI document photo functions use sophisticated algorithms to enhance image clarity and stability. The backlight portrait shooting feature is especially impressive, turning every photo into a stunning masterpiece.
Also See the Umidigi G5, the Umidigi G5 Mecha, the Umidigi A15, and the Umidigi A15C.