Auto manufacturing company, Tesla have unveiled its much-anticipated Model 3 electric car which is the company's lowest-cost vehicle to date and will be produced en mass.
The vehicle isn't scheduled to go on sale until late 2017, but had racked up over 180,000 reservations in the first 24 hours that order banks were opened.
Long queues, reminiscent of the crowds at Apple stores for early models of the iPhone, were seen at Tesla stores in Hong Kong, Austin, Texas, Washington D.C. and so on with buyers putting down the $1,000 deposit to reserve the car.
The base version of the Tesla Model 3 has a starting price of $35,000 (that's about 7 million Naira), making it less than half the cost of Tesla's previous models.
However the first units of the Tesla Model 3 to be delivered are expected to sell for far higher prices, due to customers adding more features like a bigger battery pack with greater range.
Tesla CEO Elon Musk says the base model will go at least 215 miles when fully charged, about double what drivers get from current competitors in its price range, such as the Nissan Leaf and BMW i3.
The vehicle can accelerate from 0-60 mph in under 6 seconds, with the more expensive options going much faster.
Tesla Model 3 will also come with the "autopilot" safety features found in existing models, which allow the cars to steer themselves and avoid collisions.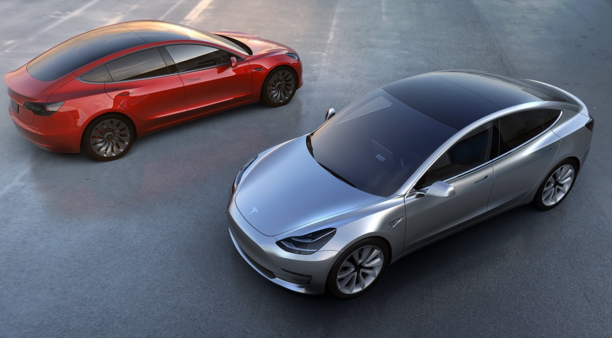 All versions of the Model 3 will support Tesla's supercharging network, which charges electric cars fully in minutes, for free.
Tesla aims to double the number of places offering supercharging to about 7,200 worldwide by the end of 2017.
The Tesla Model 3 provides storage room at the front and the rear and can fit five adults comfortably. According to Elon, one "can fit a 7-foot long surfboard on the inside" of the vehicle.
He also expressed confidence that the first Model 3 vehicles will be delivered, as planned, by late 2017.