Samsung has launched its made in India tablet, the Samsung Galaxy Tab Iris, which is aimed at government officials and employees of corporate firms.
The tablet bears a biometric authentication feature, an iris scanner, which is its biggest selling point. Samsung said the eye scanner is certified by several bodies including Aadhar, STQC, and UIDAI. The Android tablet is priced at Rs. 13,499, and Samsung didn't say when exactly it will be released into the market.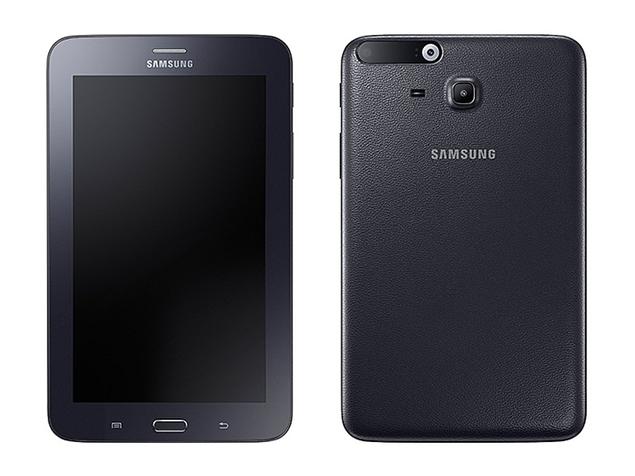 Samsung Galaxy Tab Iris- Features and Specs
The Samsung Galaxy Tab Iris has a 7-inch WSVGA (1024 x 600 pixels) display and runs on Android Lollipop. Measuring 193.4 x 116.4 x 9.7 mm, the device weighs 327 grams and is powered by a 1.2 GHz quad-core SoC.
This is further coupled with 1.5 GB of RAM and 8 GB of internal storage, which can be expanded up to 200 GB via a microSD slot.
The Samsung Galaxy Tab Iris has a 5-megapixel rear autofocus camera, and .it supports 3G network via a SIM card slot as well. Other connectivity options on the device include Wi-Fi 802.11 b/g/n, Bluetooth v4.1, and Micro-USB.
Samsung added that there's a powerful 3600 mAh battery giving energy to the phone and pointed out that its iris scanner is a 'dual-eye scanner'.
The firm said the Samsung Galaxy Tab Iris will help provide cashless and paperless services in applications such as banking, apart from e-governance services such as passport, taxation, healthcare, and education.
Mr. Sukesh Jain, Vice President of Samsung India Electronics, has this to say about the device:
"This is another example of Samsung's pursuit for meaningful innovations. We see great potential for the iris-technology solution to be used as a means of directly facilitating greater inclusion in the Digital India programme. The biometric authentication can also act as an enabler in facilitating integration of financial services with the 'Aadhar' initiative. The Galaxy Tab Iris addresses consumer pain points across platforms such as banking, finance, education and various citizen services by bringing enhanced usability, versatility and reliability all through one device."