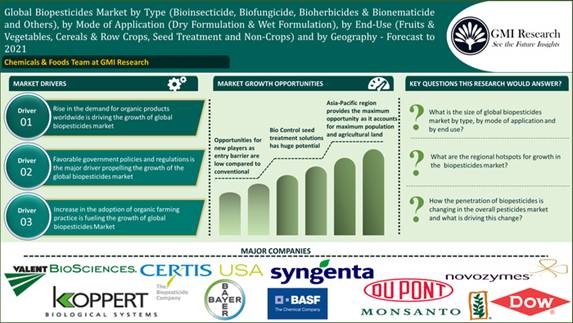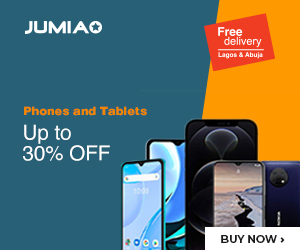 GMI Research has recently published a new report titled on "Biopesticides Market by Type (Bioinsecticides, Biofungicides, Bioherbicides, and Bionematicides and Others), Mode of Application (Dry Formulation and Wet Formulation), End-Use (Fruits and Vegetables, Cereals and Row Crops, Seed Treatment and Non-Crops) and Geography – Global Forecast to 2021". The global market of biopesticides is estimated to be valued at USD 2,507 million in 2016 and is projected to reach USD 4,509 million by the end of 2021, registering a CAGR of 12.46% during the forecast period. Favorable government policies and regulations, increased global demand for organic products and the rise in the adoption of organic farming methods are the key factors bolstering the growth of the biopesticides market.
Bioinsecticides captures the largest market share of the total biopesticides market owing to increase in incidence of pest attacks on fruits and vegetables and crops, as these types of pests have developed resistance to pesticides. The bioinsecticides segment is estimated to continue the same momentum and will capture the largest share of biopesticides market in 2021 due to increasing focus towards the prevention of insect-borne diseases and the increase in demand for organic food products.
Dry formulation amounts to approximately 68% of the total biopesticides market because most of the biopesticides are preferred in dry form as they are easy to handle, enable quick application, and are convenient to use. On the other hand, liquid biopesticides are to be sprayed using a compressed air sprayer, fogger, aircraft or soil injector.
The fruits and vegetable segment is expected to grow at a substantial rate during the forecast period. Growing consumer demand for fruits and vegetables and the increasing concern for human health are driving the fruits and vegetables segment.
North America is estimated to capture a substantial share of the biopesticides market in 2016 followed by Europe and Asia Pacific respectively. The increased awareness of biopesticides usage coupled with favorable government policies and regulations are the major factors propelling the growth of the North America biopesticides market. In 2016, US holds the largest market for biopesticides in North America as it has the highest spending on organic agriculture. Extensive research and development coupled with significant investments by leading manufacturers has further spurred the growth of the biopesticides market in the region.
This report also analyzes the competitive landscape and the major player and their market share in 2016. The competitive landscape section of the report also captures and highlights the recent development in the market. The report also profiles the major players active in this field, Key players profiled in this report are Bayer CropScience (Germany), BASF SE (Germany), Monsanto Company (U.S.), Certis USA LLC (U.S.), Koppert Biological Systems (Netherlands), Valent Biosciences (U.S.), Syngeta (Switzerland), Dupont (U.S.), Dow Chemical Company (U.S.), Novozymes (Denmark).
For more details, browse the Table of Contents: https://www.gmiresearch.com/report/global-biopesticides-market.html