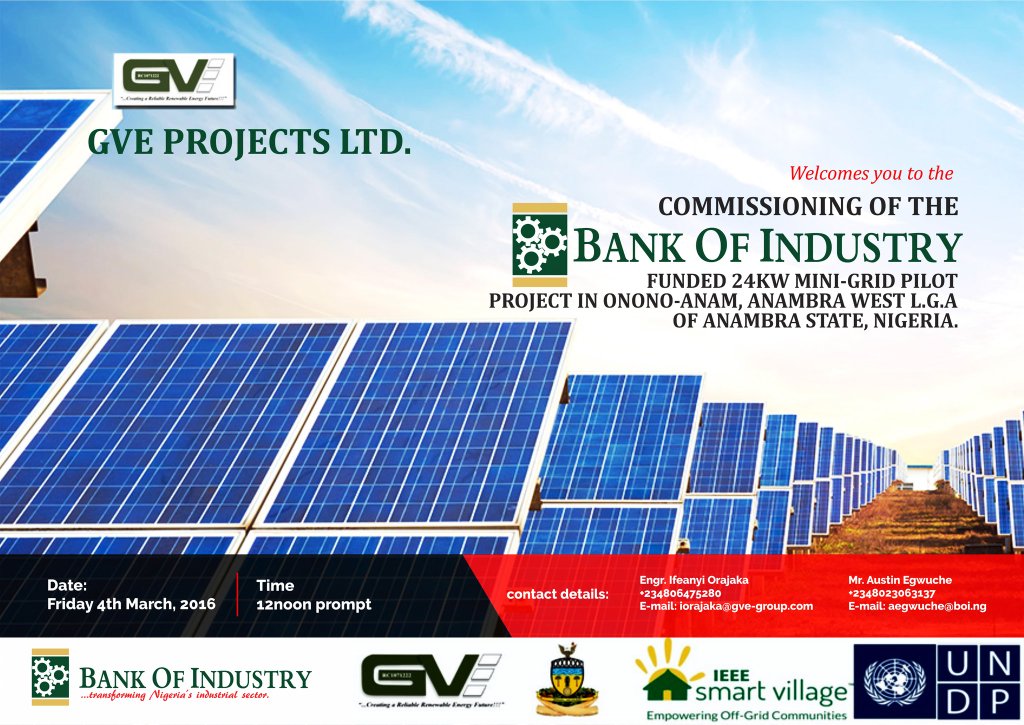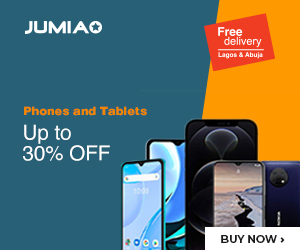 A clean energy pilot project of the Bank of Industry (BoI) in Nigeria has installed a 24KW mini-solar electricity grid in Onono-Anam, a very remote community in Anambra state in South Eastern Nigeria.
The project was executed by the Bank of Industry in partnership with the United Nations Development Programme (UNDP) and GVE Projects.
Onono-Anam is about two hours away from the cities of Onitsha or Awka (off Aguleri Junction Onitsha/Adani). The project was commissioned by the executive governor of the state, Willie Obiano.
Homes in the community have been connected to the solar Power grid and are expected to start enjoying uninterrupted power supply under the plan.
Users are expected to purchase electricity vouchers from a local vendor employed by the authorities. The vouchers will then be used to recharge the pre-paid meters provided in each home.
Stand-alone solar home systems are provided to houses not connected to the grid due to proximity issues.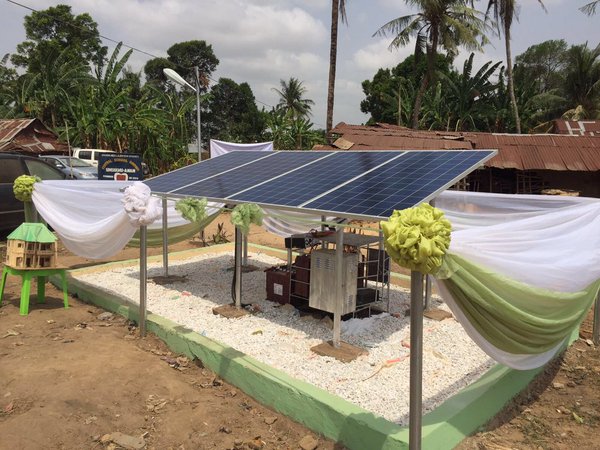 The clean energy initiative received wide commendations from a lot of Nigerians and several corporate bodies and organizations.
Beneficiary of the solar energy scheme have also taken to social media to express their joy and to thank the government for the initiative.
There are also indications that Anambra state is only the starting point for this mission, as they are said to still be working on improving the solar project.
Acting MD/CEO of the Bank of Industry, Waheed Olagunju said the bank is ready to partner with all state governments on solar electrification projects in off grid areas.
"The bank and UNDP will commission solar electrification projects in other communities in Anambra, Edo and Kaduna states. It essentially is a program aimed at poverty alleviation and rural economic development," he said.
According to him, the Bank's medium term vision is to ensure 100,000 homes have solar systems in the next 5 years.
Nigeria is presently rocked by controversies surrounding electricity tariffs for those connected to the national grid.
Hence the development is a welcome relief to the community as the 24KW mini-solar power grid project will ensure every home in the community has access to solar power.
There was no word on how much the project actually cost. We hope someone will throw some light on this lacuna.